FAQs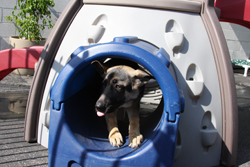 Do You Have Age Restrictions For Lodging?
Yes. For their safety, we require that puppies be at least 4 months of age. This is the minimum age at which they are fully vaccinated. Because of the needs of younger puppies, we recommend that they lodge at your veterinarian's.
What Kind Of Food Do You Provide?
We serve Fromm all natural dog and cat foods. We try to keep our guests on the same feeding schedule that they have at home. We generally serve our guests meals in the morning and late afternoon, but we will accommodate special needs or requests.
May We Bring Our Own Food?
Of course. Personal food should be separated and measured by individual meals in zip lock baggies, labeled and pre-packaged for each meal so that we may provide the same amount that your pet is accustomed to receiving.
May We Bring Our Own Bedding?
Sorry, but for sanitary and pest control reasons, we provide all Coventry Pet Resort guests with our comfy (doggy hammock beds) and hypo-allergenic blankets that are changed and laundered daily.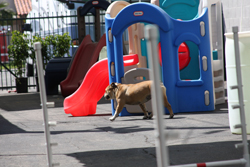 What About Toys?
You are welcome to bring your pet's toys from home. Please limit the number of toys to no more than two, and we ask that you not provide any toy smaller than a tennis ball. Personal belongings should be permanently labeled with the pet's first and last name prior to arrival. Once again, we always try our best, but we cannot be responsible for the safe return of toys, so please, nothing valuable or one-of-a-kind.
My Pet Requires Medications. Can You Give Them To Him/Her?
Yes. All required medications will be administered for a small fee. We request that all medications be labeled with your pet's first and last name and in their original container. We will also want to know about any special health concerns.
Will My Pet Require A Flea And Tick Treatment?
We want to maintain a pest-free environment, so all pets are inspected at check-in for signs of fleas and ticks. If detected, we offer a single treatment of Frontline Plus. Cost will be determined by the size of your pet.
Will My Pets Be Placed With Other Pets?
No. Pets from different families are never boarded together. Each pet enjoys his or her own personal space and interacts with Coventry staff only on an individual basis.
Can My Pets Stay Together?
Yes. Family members may stay together. However, in the event of a "disagreement," we will separate pets for their safety.
Why Do You Remove My Pet's Collar?
We remove collars for safety purposes.
I Will Be Arriving Late But Want My Pet With Me As Soon As Possible. Can I Make Arrangements To Have Someone Else Pick Him/Her Up For Me?
Yes. You may have someone else pick up your pet as long as we have your written authorization, the name of the person on file, and payment arrangements have been made in advance.
Is Someone On The Premises At Night?
Yes. A Coventry staff member is on premises 24 hours a day.
What If My Pet Should Become Ill While In Your Care?
Using the personal information you provided us, Coventry staff would first attempt to contact your personal veterinarian. If that was not possible, we have several highly qualified local veterinarians that we may call upon if necessary.
How Do You Keep Track Of So Many Pets?
Each guest receives a card for identification purposes when checking in. This identification card contains important personal information and care instructions and accompanies your pet throughout his/her stay.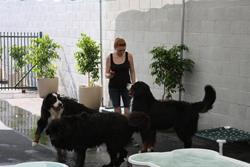 May I Call To Check In On My Pets?
Please feel free to contact us at any time during regular business hours to check on your pet. We'll be happy to give you an update!
Do You Lodge Only Dogs And Cats?
At present, our focus is on providing outstanding, caring service for our dog and cat guests. For this reason, we provide boarding for dogs and cats only at this time.
Do You Require Reservations?
Reservations allow us to staff appropriately to provide the utmost in service and care for you and your pets! We request that you make reservations as much in advance of your pet's visit as possible. Although we attempt to accommodate all requests for boarding, we do experience certain "peak periods," generally occurring around busy holiday periods and traditional summer vacation months.
Can My Pet Become Ill From Lodging?
Yes. Even though we take every precaution to protect your pet from being exposed to disease while staying at Coventry Pet Resort, it is possible for them to contract an airborne illness from another pet.
This is why current vaccinations are mandatory and why we have transitioned to a 6 month regimen for Bordetella (K-9 cough). To further reduce the risk, we use disposable bowls that are used once and discarded and practice meticulous sanitation, using the same type of disinfectant as is used in a human hospital.
Think of sending a child to school: the parent may have seen to it that his/her son or daughter received that season's flu vaccine, taken their vitamins and had proper nutrition and rest. Yet, despite their best efforts, s/he still may contract a cold or flu, possibly a strain that was not included in the vaccine.
I'd Like To Come For A Tour. Is That O.K.?
Unfortunately, tours have been suspended due to our COVID-19 protocols. We hope to resume tours in the future so stay tuned for updates to this policy.