Day Care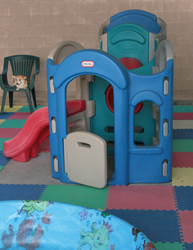 Day care provides you with peace of mind and your dog with a physical and mental stimulating day of social interaction. Your first visit will require an appointment for a day care evaluation. Just call the office and make plans to start your dog's day care experience. This first visit is an evaluation to determine if your dog is a good fit with one of our existing social play groups of similar size, weight, age and energy level.
Most of our day care clients enjoy the fact that their dog comes home happy and a little tired from their day out with their friends. With most people's hectic schedules, we provide a constructive and healthy outlet for your dog's energy. After the initial evaluation, no further appointments are needed and you can simply drop off your dog for their daily day care.
Rates:
Monday through Friday Hours of operation (6:30 am to 6:00 pm)
A Full day of Day Care (greater than 6 hours) is $24.00
A Partial day of Day Care (less than 6 hours) is $14.00
Weekends (Sat. & Sun.) Hours of operation (8:00 am to 5:00 pm)

Weekend Day Care only offered at full day rate of $24.00
Contact us today to schedule your first visit or for more information.